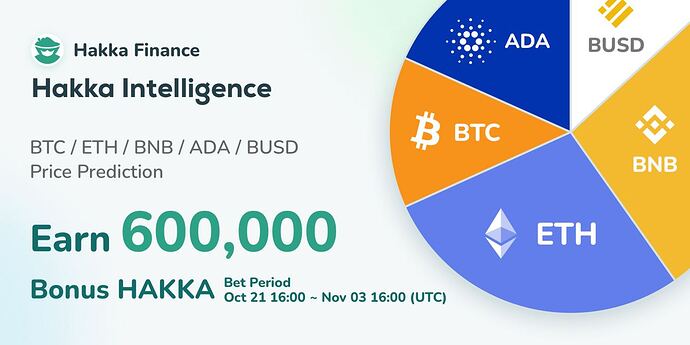 What are we betting this time?
As Bitcoin is accepted by the mainstream market, it finally hit a new all-time high.
In this round of Hakka Intelligence, after discussion in the community, we decided to predict the price of the top 5 cryptos by market cap
Bitcoin (BTC)
Ethereum (ETH)
Binance Coin (BNB)
ADA (Cardano)
as a result, the portfolio would be BTC/ETH/BNB/ADA/BUSD
Given that the price of BUSD is usually around $1, you should be accurate on the price change of the paired token ( BTC/ETH/BNB/ADA) to stand out in the crowd and acquire a high score.
There will be a 600,000 additional $HAKKA reward distributed in the pool as an incentive.
Process
This round of Hakka Intelligence will last 90 Days. It means that participants should predict the price change of the coins in 90 days (2021 Nov. 3rd ~ 2022 Feb. 1st). All participants who have HAKKA may participate in the price prediction.
The process of this round is as below:
<1> Bet Period (Bet Starts-Bet Ends)
Bet Starts: 2021/10/21 12:00 UTC
Bet Ends: 2021/11/3 16:00 UTC
All HAKKA holders may participate in the prediction of "Price Changes from 2021/11/3 16:00 UTC to 2022/2/1 16:00 UTC" by submitting the prediction along with the $HAKKA stake.
Participants should submit their predictions by 2021/11/3 16:00 UTC. There will be no upper bound for each participant's stake amount.
<2> Prediction Period (Bet Ends-Count Score)
Bet Ends: 2021/11/3 16:00 UTC
Count Score: 2022/2/1 16:00 UTC
At this point, the system stops accepting predictions and awaits the final result. The coin prices at this exact moment (2021/11/3 16:00 UTC) will be used as the initial state to calculate the price change in 90 days.
<3> Count Score Period (Count Score-Get Reward)
Count Score: 2022/2/1 16:00 UTC
Get Reward: 2022/2/15 16:00 UTC
When the time is up, price data will be pulled from Chainlink Oracle to determine the final answer. Participants need to manually click on the Calculate Button to trigger the calculation of their score. If you did not press the button within this period, you will be disqualified and lose ALL of your stakes.
<4> Get Reward Period (Get Reward-)
Get Reward: 2022/2/15 16:00 UTC -
Participants who have calculated their scores may claim their reward after 2022/2/15 16:00 UTC. Again, all participants should manually claim the rewards themselves in this period.
Now, get your Hakka ready and join Hakka Intelligence: https://intelligence.hakka.finance/
If you're a newbie, here are some helpful info:
What is Hakka Intelligence

Hakka Intelligence is a price prediction platform. Given a set of crypto assets, participants may predict the position change of each asset after a period of time, with the stake: $HAKKA, to win the prize.

Learn more on: 《 Hakka Intelligence Handbook v2》
How to get HAKKA on Binance Smart Chain?

Hakka Intelligence is launched on Binance Smart Chain. All participants should get your "HAKKA on xDai on BSC" ready so that you may participate! We have prepared an in-depth tutorial on how to acquire $HAKKA on Binance Smart Chain: